Marshall Exteriors
URL: http://www.marshallexteriorsny.com/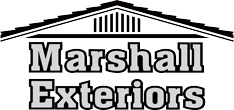 Roof Inspections, Repairs, Replacements, Vinyl Siding, Gutters & Downspouts, Replacement Windows:
Marshall Exteriors specializes in providing roof repair and replacement services, vinyl siding, gutters and downspouts, replacement windows and doors, roof inspections, insurance claims assistance and related services for homes in the Greater Lyons, New York and surrounding areas.
The company has been in business since 2000. Free estimates are available
Contact Info:
Marshall Exteriors
171 W Shore Blvd, Newark, NY 14513
Phone: 1-855-478-1095
Current Rating:
9.00
Number of Votes:
1
Date Submitted:
9-Jul-2015
Last Updated:
24-Jul-2015
What do you think of this listing?